Markets and Applications – District Heating

Modern Concepts

The demand for district heating is steadily increasing.

In order to use thermal energy economically and efficiently, modern concepts are needed, especially when regenerative raw materials are used. In this context, insulated pipe systems are particularly important.

With its diverse range of ball valves and modern concepts, RAV Armaturen is a strong partner for the district heating industry.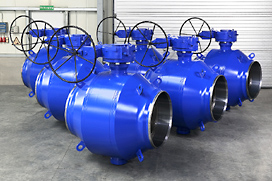 RAV Products in Focus

Thanks to the thermal reliability of innovative closure and sealing systems, RAV ball valves for district heating systems ensure minimal pressure and temperature losses:

RAV ball valves ensure the sealing of the stem by using a redundant sealing system. This system, for example, avoids unnecessary thermal losses by preventing hot water from entering the stem extension.

The use of high-quality materials enables compensation of axial and bending forces. The ball valves are thus perfectly suited for underground pipelines that are installed without any thermal treatment and without any compensating elements.